Dr. Beth Garvy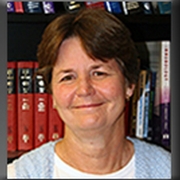 Dr. Beth Garvy began her career at the University of South Florida, Tampa receiving a BA in the Biology and Science Education. This was followed by several years of teaching science at a junior high school in Tampa. She subsequently began graduate school in exercise physiology at Ohio State receiving an M.S. in 1985. She then, started a doctoral program in the School of Health Education, Counseling Psychology, and Human Performance at MSU with an interest in exercise physiology. Diversifying her education further, she became a graduate student in the MSU Department of Biochemistry and Molecular Biology. Due to her interests in immunology, she joined the lab of Pam Fraker. While there, Dr. Garvy demonstrated, for the first time, that developing B cells in the bone marrow were exquisitely sensitive to glucocorticoids, either those given orally or those produced endogenously, in response to various types of stress. She further demonstrated that these pre-B cells died in large numbers due to accelerated apoptosis using new FACS methodology developed in thelab. Having generated five publications, Dr. Garvy received her Ph.D in 1991.
After additional training at the University of Miami, Dr. Garvy moved to the Trudeau Institute in upstate New York where she began studiesin a new area of pulmonary immunology. In 1998 Dr. Garvy became an Assistant Professor at the University of Kentucky in the Department of Internal Medicine and Infectious Disease. Due to the procurement of several NIH grants, she was given tenure in 2004 and provided an Endowed Professorship in Infectious Disease. At that time she also joined the Department of Microbiology, Immunology and Molecular Genetics. She advanced becoming a Professor in 2011 and is currently interim Chair of that department. Dr. Garvy currently has 3 grants, two of which are funded by the NIH, and 50+ publications and book chapters.
Dr. Garvy's research focuses on host defense in the lungs. Two projects center on the immune response to the opportunistic fungal pathogen, Pneumocystis which causes an important AIDS-defining illness. She has used murine models of Pneumocystis pneumonia to explore the contribution of B cells to activation, proliferation, and survival of T cells. Additionally, she has been interested in how neonates respond to and clear Pneumocystis. Here she established that the immune response to Pneumocystis is significantly delayed in neonates due to both intrinsic immaturity of immune cells as well as the immunosuppressive environment in post-natally developing lungs.
More currently, Dr. Garvy established a second model of neonatal immunity in her laboratory and is studying the response to influenza virus infection. Unlike adults, neonatal mice develop interstitial pneumonia in response to influenza virus infection. This is due to a different chemokine and cytokine response to influenza virus infection in neonates. Additionally, the response to immunodominant influenzaepitopes is significantly different in neonatal mice. She is currently addressing the mechanisms responsible for these observations.