Lab Members
Postdoctoral and Visiting Researchers
Satyanarayana (Satya) Lagishetty is a structural biologist who received his PhD from Pune University (India) and received additional training at MD Anderson Cancer Center, Brookhaven National Laboratory, Univ. Florida, and Clemson University. Satya's research focuses on determining crystal structures of proteins that use the nickel-pincer nucleotide cofactor or participate in its biosynthesis. Satya is jointly mentored by Professor Jian Hu in BMB.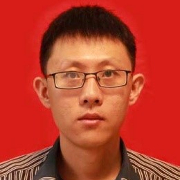 Hao Yu received his PhD from Shanghai Jiaotong University in 2015 and is now a visiting lecturer from Qingdao Agricultural University. He has extensive experience studying biodegradative enzymes involved in the metabolism of nicotine and other compounds, and is now expanding his background in metalloenzymology as part of the nickel-pincer nucleotide enzyme group.
Graduate Students

Joel Rankin graduated from Washington University in 2013 with a Bachelor of Arts in Biology. His undergraduate research project involved studying the pathway used to covalently attach heme to cytochrome c in plant mitochondria and many bacteria. Joel's current project focuses on the mechanism of lactate racemase and the pathway for biosynthesis of its Ni-pincer cofactor.

Caitlyn (VanGelderen) Herr graduated from Kalamazoo College majoring in Biology and Chemistry. Her current project focuses on CsiD, an Fe(II)/2-oxoglutarate dioxygenase that hydroxylates glutaric acid. She also works with an Fe(II)/2-oxoglutarate-dependent ethylene-forming enzyme.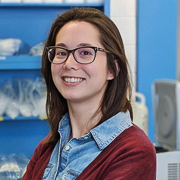 Aiko Turmo graduated from MSU in Molecular Genetics and Genomics & Microbiology in 2013, then worked as a laboratory research technician for four years with Prof. Cheryl Kerfeld in the DOE Plant Research Laboratory. She became a BMB graduate student in 2017 and her research currently focuses on characterization of LarC, a CTP-dependent cyclometallase that installs nickel in the nickel-pincer nucleotide cofactor.
Undergraduate Students
Stephanie Iorga works with Joel on lactate racemase studies.