BMB Postdoc Teaching Internship Program (PTIP)
Many postdocs consider careers in academia, where time is split between both research and teaching. Traditionally, the vast majority of postdoctoral fellowships provide support with the purpose of developing laboratory research, but not necessarily teaching skills.
To help prepare postdocs for an academic career, BMB has instituted a program named the "Postdoctoral Teaching Internship Program," or PTIP. This program is supported by the Department of Biochemistry and Molecular Biology, the Biological Sciences Program, and the Graduate School. PTIP will offer more teaching experience in preparation for an academic career. It will involve planning, developing, and teaching undergraduate courses, attending educational instruction workshops, and developing materials used towards a teaching portfolio.
Director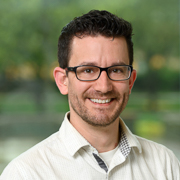 Daniel Ducat (ducatdan@msu.edu)

Previous Participants:​​



Sundari Chodavarapu - BS 161



Neil White - BS 161



Anqi Xing - BS 161





Stacy Hovde - BMB 472




Wei Dong - BMB 472



Grzegorz Ciesielski - BMB 401 online



Sarathi Wijetillake - BMB 401



Anne-Sophie Bohrer - BMB 461