Alyssa Preiser is the 2018 - 2019 recipient of the Barnett Rosenberg Endowed Research Assistantship
Release Date: May 18, 2018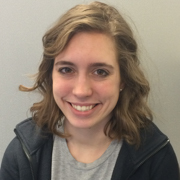 Alyssa Preiser is the 2018 - 2019 recipient of the Barnett Rosenberg Endowed Research Assistantship from the College of Natural Science. Alyssa is a third year graduate student in the Biochemistry and Molecular Biology program. She works in Dr. Thomas Sharkey's lab characterizing an alternative pathway around the Calvin-Benson cycle. Understanding this pathway can provide insight into stabilization of the Calvin-Benson cycle and the connection between electron transport and central carbon metabolism.
Alyssa says, "I am extremely grateful to be recognized with this award. I've received so much encouragement from peers and mentors that have helped me with my work, and I'm glad to have it recognized."
Barnett Rosenberg was a chemistry professor at MSU who recognized the anti-cancer potential of the platinum-based compounds cisplatin and carboplatin. These drugs produced over $325 million in royalties for MSU, providing funding for Barnett Rosenberg Endowments. The Barnett Rosenberg Endowed Research Assistantship will support Alyssa for one year with a stipend, health insurance, and tuition reimbursement.