MSU iGEM Team Wins Award to Help Declining Bee Population
Release Date: Aug 3, 2020
Categories: Homepage Hero, Home Page Slides
Honey and wild bee populations are on the decline and a group of Michigan State University (MSU) undergraduates recently received an International Genetically Engineered Machines (iGEM) Revive & Restore award to combat this problem by engineering a probiotic to help bees detoxify common pesticides.
iGEM is a competition that brings together students from around the world to design a biological solution for some of humanity's toughest problems. For the 2020 competition, 12 grants of $5,500 each were awarded to teams whose projects are focused on solving a problem in conservation.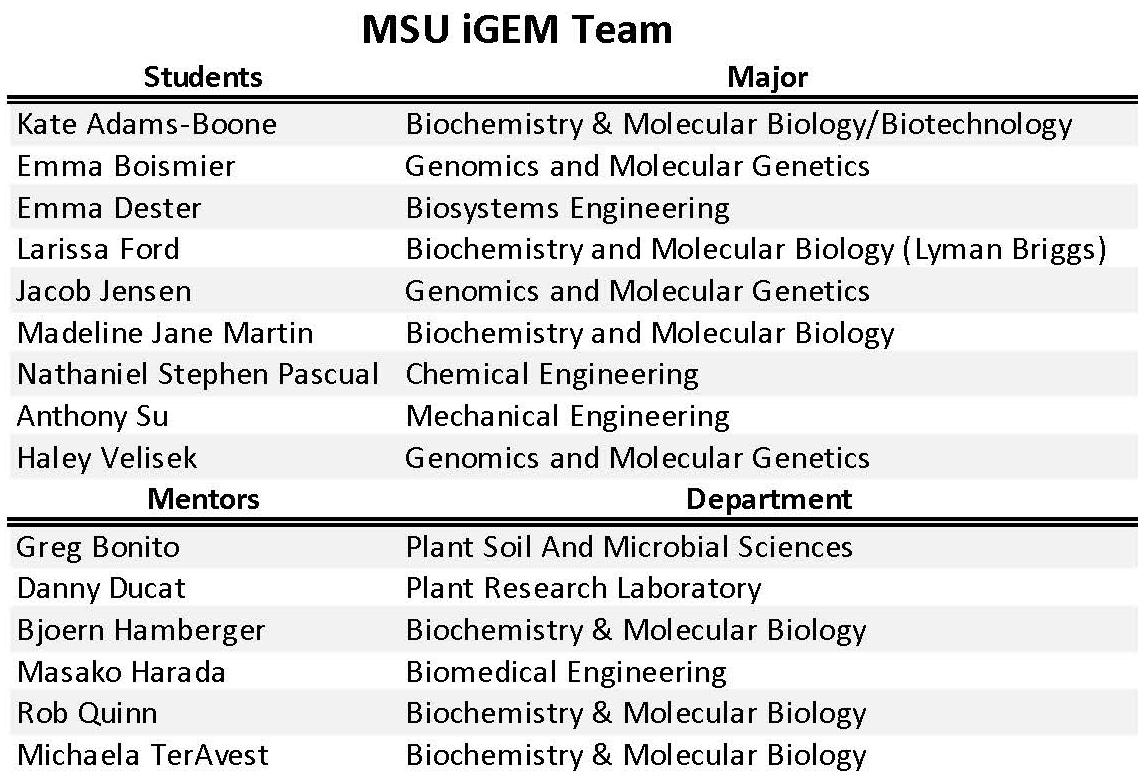 The MSU team of nine students that range from freshmen to juniors represent diverse areas, including biochemistry and molecular biology, biosystems engineering, chemical engineering, mechanical engineering and genomics and molecular genetics. All team members perform multiple roles on the project, which is broken up into gene editing, bioinformatics and device development subgroups. The team works with six mentors from the Departments of Biochemistry and Molecular Biology, Biomedical Engineering, Plant Soil and Microbial Sciences and the MSU-DOE Plant Research Laboratory. A complete list of team members and mentors can be found in Figure 1.
"We were just getting started in the spring when the COVID-19 pandemic struck, but we decided to move forward in spite of not knowing what was in store", said Michaela TerAvest, BMB assistant professor and principal investigator of the project. "I have been so impressed in what they have been able to do so far. The team has been simply amazing."
Bees are the most essential animal pollinators of agricultural crops and wildflowers and are integral to maintaining biodiversity. Data has shown that honey and wild bee populations are declining, with half of the wild bumblebee species in Michigan declined by more than 50 percent over the past 20 years. There are several possible causes for these population declines, including parasites, climate change, loss of foraging habitat and the use of agricultural pesticides that negatively impact bee species.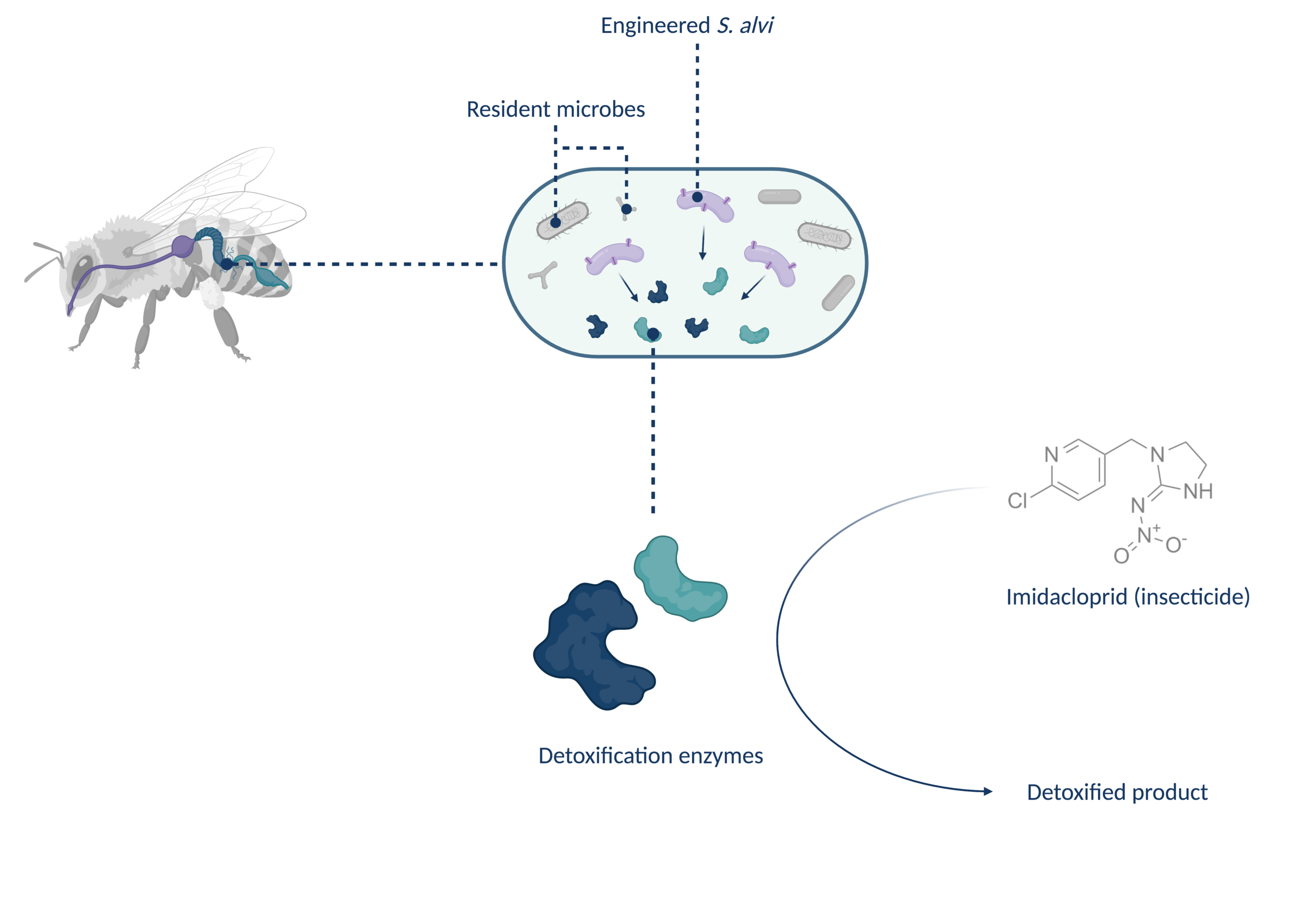 The iGEM team plans to combat this problem by engineering Snodgrassella alvi, a natural probiotic found in the bee gut microbiome, that can degrade Imidacloprid, a common insecticide that kills insects by debilitating their central nervous system, but also can change bee behavior and negatively affect the hive.
The collaborative project relies on a group of specialized mentors. Danny Ducat, associate professor in the MSU-DOE Plant Research Laboratory, studies a specific strain of bacteria, Pseudomonas putida, that is known to break down Imidacloprid. The team collects samples of this bacteria and grows them in the presence of Imidacloprid. These samples are then analyzed with mass spectrometry in the lab of Rob Quinn, BMB assistant professor. The team then studies these final results in the lab of Björn Hamberger, BMB assistant professor, to find the specific enzymes that are responsible for the chemical transformations that break down Imidacloprid.
The group is also working to develop a feeding device that will administer the probiotic, capture information about insect visitors and to develop outreach materials.
"I joined the iGEM team because I wanted to do lab work and was interested in science communication and learning how to present my own work," said Kate Adams-Boone, a freshman studying biochemistry and molecular biology. "Working on a collaborative team has been great and I'm excited to connect with other iGEM teams."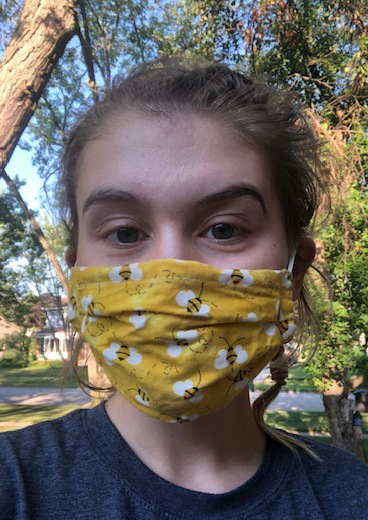 The 2020 iGEM team members are: Kate Adams-Boone, Emma Boismier, Emma Dester, Larissa Ford, Jacob Jensen, Madeline Jane Martin, Nathaniel Stephen Pascual, Anthony Su and Haley Velisek. The team will present their work and compete with other teams at the annual iGEM Competition in the fall.
Banner image: A native bumblebee foraging in Michigan. Photo: Madeline Martin
Share this story