Printers
General Purpose Printing
B & W laser printers - Two-sided printing available
Color laser printer
Poster Printing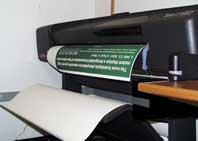 BMB staff will print posters for MSU affiliated faculty and students. A universtiy account number is required for charges. The cost is $60 for glossy paper and $90 for fabric. You will be charged for the printing of every poster except where there is a malfunction of the printer, so please do carefully proof-reading before submitting your file.
Guidelines
The maximum poster paper width is 42".
The maximum length of the poster can be 100 feet (entire roll), however Powerpoint limits the length to 52". For posters in Powerpoint longer that 52", set the dimensions to 21" x 40" for a workaround.
Posters created with the Mac version of Powerpoint must be converted to pdf.
Printing time: 30-60 minutes.