BMB 490 and BMB 499
Undergraduate Research Opportunities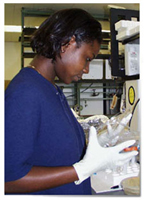 The MSU Department of Biochemistry and Molecular Biology offers
two courses that give students practical research experience:
BMB 490 is Independent Study offered Fall, Spring and Summer.
BMB 499 is Independent Study culminating in a senior thesis.
1 to 4 credits are possible for BMB 490 and 2 to 8 credits are possible for BMB 499.
Total credits in BMB 490 and BMB 499 may not exceed 12.
Approval of the department is needed.
Students enrolled in BMB 490 and BMB 499 do independent research under the supervision of a faculty mentor.

The requirements for an independent research project for BMB 490 are negotiated with the faculty mentor.

The requirements for the BMB 499 senior thesis are as follows:

A senior thesis is typically conducted over two semesters of 2 to 3 credits per semester. Students will conduct significant laboratory research. The senior thesis is a capstone experience. Students will write a thesis based on their research. The thesis will include references to original literature in biochemistry, molecular biology, and related fields. The thesis should be at minimum 15 pages long (inclusive) and up to 25 pages long and include a significant survey of the field (2 pages minimum) based on original literature. The thesis will be assessed by two professors (at least one from BMB); the student's mentor and another person whom the student will choose at the beginning of the semester. Upon review of the thesis by these two individuals, students will be required to submit a revised thesis based on their comments. The student will also be required to give a presentation at UURAF or another similar type event.

To arrange a BMB 490 or BMB 499 experience:
1. Search the department website to identify faculty with whom you would like to work.
2. Contact the faculty member by email. You may wish to include a resume, a description of your past research and work experience, and a description of the type of project you would like to do.
3. Arrange the details of your project and schedule with the faculty mentor. (NOTE: If you are unsure of if your project is Biochemistry focused enough, please contact Dr. Susanne Hoffmann Benning (hoffma16@msu.edu) and have her review things ahead of time.)
4. Download the form and complete it online then send it to your mentor and once they've signed and returned it to you, then email it to Dr. Susanne Hoffmann-Benning (hoffma16@msu.edu) for final approval.
(NOTE: If you can't access the forms, try using Chrome or IE)
5. After everyone has signed the form (including you), email it to Mary Villarreal (villar30@msu.edu). Mary will process the override and enroll you into the course for the amount of credits designated on the form.
6. Please make sure that you indicate if you are wanting to be enrolled in an Honors section or a Non-Honors section
For more information, contact:

Mary Villarreal
BMB Undergraduate Program Administrative Assistant